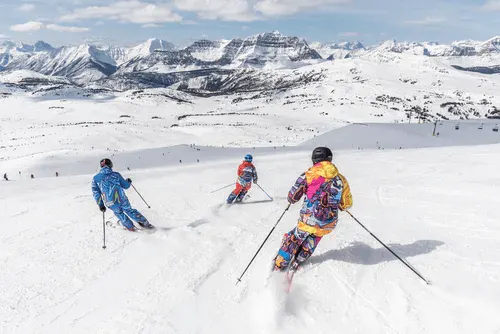 When most people think of ski resorts, their minds usually go to Colorado, Utah, or northern California. However, ski enthusiasts who want to focus on excellent skiing and world-class amenities know that there is a hidden gem located in quiet Idaho. Sun Valley, which is near Ketchum, Idaho, has been a resort favorite for more than half a decade. In fact, the resort just napped Ski Magazine's number one spot for best resort. Here are seven reasons why it's a fan favorite and why you should plan your next ski vacation at Sun Valley.
1. IT WAS THE NATION'S FIRST DESTINATION SKI RESORT
Sun Valley was pioneered by ski enthusiast W. Averell Harriman. Harriman had grown up skiing in the Swiss Alps and wanted the U.S. to have its own luxurious alpine resort. Harriman searched the country over before settling on the beautiful Ketchum, Idaho area in 1936. He then started developing an idea for a new way of taking skiers up mountains, which is how the first ski lifts were born. After unveiling the lifts, the resort quickly became a favorite for celebs, and frequent visitors included Clark Gable, Marilyn Monroe, and Ernest Hemingway, who wrote For Whom the Bell Tolls while staying in the Sun Valley Lodge.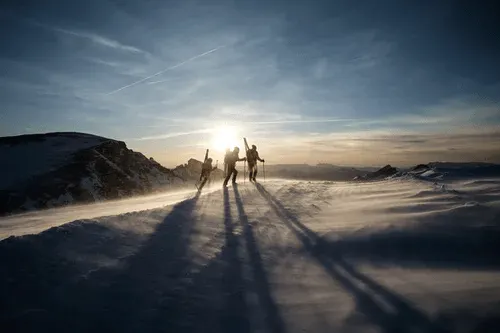 2. IT RETAINS A DISTINCTIVE CHARACTER
Unlike most ski resorts in the country, Sun Valley retains much of its unique character due to the fact that it is still owned by the Holding family, as it has been for decades. This family was instrumental in organizing the Utah Winter Olympic Games and is committed to keeping the underlying character of Sun Valley unchanged. This includes an understated elegance, rural flair, and a self-sufficient mountain spirit that is apparent in all their staff. Those who visit the resort can indulge in the luxury accommodations at the Sun Valley Lodge or, if they want a bit more relaxed and casual atmosphere, at the Sun Valley Inn. Both have a full complement of restaurants, beautiful rooms, amenities, and some of the best service in the world.
3. IT EMBODIES THE TRUE RESORT MODEL
Sun Valley is the epitome of a high-end resort with its two mountains, featured Sun Valley Lodge, a second hotel option in the Sun Valley Inn, and the rest of lodging in rental condos and homes. There are also indoor and outdoor skating rinks, a dining and shopping village, a Nordic center, a large equestrian center, a full-service shooting facility, and three high-end golf courses that are given prime real estate at the base of the mountain. Almost as busy during the summer months as the winter, Sun Valley is popular for those who enjoy horseback riding, mountain biking, and fishing.
4. THE MOUNTAINS
Of course, no resort is going to be named to the top spot by Ski Magazine if it doesn't have outstanding mountains, and Sun Valley has two of the best. Dollar is the mountain for beginners and those who want to take advantage of the seven-meter Superpipe and Terrain Park. This mountain is small at just 150 meters and very open, so it's an ideal place for those learning how to ski. There is also a blue intermediate run for those who have started developing their skills.

Bald Mountain is the second option and is considered to have the perfect shape for a ski slope. With a consistent incline and no natural stopping places, this mountain is perfect for taking lessons, as it offers the opportunity to practice turns without having to account for changes in steepness. Bald Mountain has a signature blue run, as well as black diamond runs, that are well-known for offering the best mogul skiing in the world. To top it all off, Sun Valley is one of the only resorts in the states to offer heli-skiing. In fact, they claim to be the inventor of the sport and have been perfecting it for the last 50 years.
5. IT'S FAMILY FRIENDLY
Those who want to take their kids on an epic ski vacation can't do any better than Sun Valley. In addition to the very kid-friendly Dollar mountain, the resort also features three outdoor heated pools, a nearby YMCA with a variety of indoor pools and a hot tub, as well as a rock climbing gym, and plenty of areas for ice skating. Families can rest and unwind from all the activity at the resort by catching a movie at one of the area's three unique theaters, eating at fun restaurants like Grumpy's, or grabbing a pizza from Wiseguys or Rico's Authentic Italian.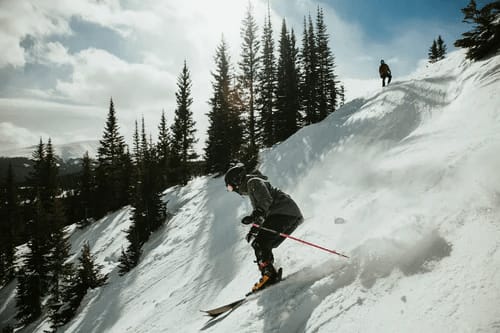 6. ITS LAID-BACK ATMOSPHERE
Unlike some other trendy resorts in the U.S., the vibe at Sun Valley is laid-back and casual. Those who visit the resort aren't there to show off the latest fashionable ski apparel or rub elbows with the elite. Instead, they're there to ski, snowboard, and relax in a not-too-crowded atmosphere with other ski junkies. Many of the Sun Valley locals are expert skiers (56 former and current Olympians are actually from the area), but they are always welcoming to visitors and never make them feel out of place.
7. IT'S EXPANDING
The owners of Sun Valley like their traditions, but they also know they need to continually improve to meet the demand of those who visit. Their long-awaited Cold Springs terrain expansion recently opened and offers 380 new acres of skiing territory. In addition to the added glades, chutes, and moguls, the new terrain also replaces their oldest lift on the mountain with a new high-speed quad that will get skiers up the mountain faster and more conveniently.

Ready to plan your next ski vacation? With its world-class mountains, luxury accommodations, and plenty of activities to take part in when you're off the slopes, Sun Valley has earned its #1 spot on Ski Magazine's list. If you visit the area and find you never want to leave, consider working with an experienced local real estate agent like those with the Wyman Group to buy your very own Sun Valley vacation home.