Offering a stunning location, unique culture, and an incredible variety of things to see and do, Seattle often rates high on any list of top American cities. In fact, between the futuristic Space Needle, the hopping Pike Place Market, the gorgeous waterfront downtown and towering backdrop of Mt. Rainier, and the commercial exports of Amazon, Boeing, Microsoft, and Starbucks Coffee, it's one of the nation's most iconic cities.

It's also a fantastic place to start or raise a family. According to WalletHub, the Emerald City ranks number seven on their list of Best Places to Raise a Family for 2021. The ranking is significant, as Seattle is the only city in the top 10 with a population of over 300,000. The next highest-ranked city of equivalent size is San Diego at number 13. Seattle earns this top-tier ranking thanks in large part to the number of excellent neighborhoods within the city limits.

Depending on how one chooses to map it, there are between 50 and 75 distinct districts within the city, and practically everyone contributes something unique and memorable; however, when it comes to those with a familial vibe, a few communities stand above the rest. Let's explore five Seattle neighborhoods families love, and we're certain yours will too.
LAURELHURST
We start our virtual tour of Seattle's most family-centered neighborhoods with one of its most affluent: Laurelhurst. The small community originally started as a suburb of Seattle before the city annexed it. Much of the area's allure stems from retaining its suburban roots with large lot homes set amongst winding streets beneath a lush green canopy.

Located a few minutes east of the University of Washington, Laurelhurst sits on the banks of Lake Washington and sports one of Seattle's best outdoor environments. Both a community center and beach club prove popular with residents, and the latter Laurelhurst Beach Club boasts numerous youth programs, including a Junior Sailing program and swim lessons. Laurelhurst's location also provides direct access to the 74-acre Union Bay Natural Area. The public wildlife area and natural restoration laboratory boast four miles of shoreline and over 200 species of birds.

Although it feels slightly more rural than suburban – the community's population hovers around 7,000, the smallest area on our list – Laurelhurst plays host to great shopping and dining venues. It's also home to the Seattle Children's Hospital, a positive presence in the area, and given its proximity to UW, there's a college atmosphere in the air, making it easy for you to bike to all of the Husky sports venues.

In Laurelhurst, median home prices are $1.4 million, and top-rated public schools include Thornton Creek School and Roosevelt High School. The latter is ranked in the top 20 public high schools in Washington.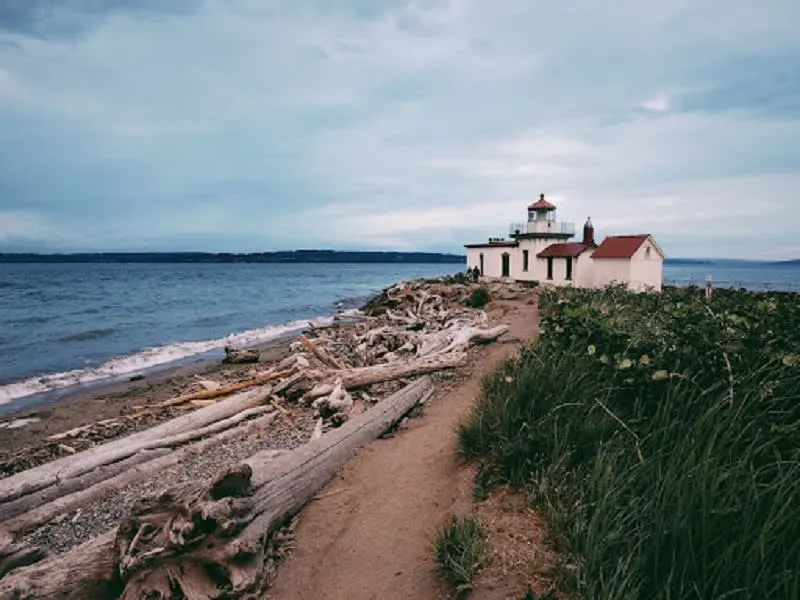 MADRONA
Our next family favorite neighborhood is due east of downtown Seattle, along the shores of Lake Washington. Although far from remote – downtown is an easy 15-minute drive – it has all the trappings of a classic bedroom community. Storefronts along Union Street exude a small village vibe, with the area's best dining a collection of unique and flavorful cafes. Make no mistake, though; Madrona is a place you settle to enjoy a quiet, peaceful life. There is an authentic sense of community here, with most neighborhood events hosted with the entire family in mind.

The vast majority of these family-friendly gatherings occur in and around the community's namesake park along the shores of Lake Washington. It's a favorite hangout from the wooded hillside down to the beach and into the swimming areas. There are several picnic areas and a jogging trail, and several walking paths. At just over 31 acres, the park is by no means large, but its isolation gives the sense of a private community retreat open to residents only.

Given its proximity to Lake Washington, there are many stunning homes in Madrona wrapped in lush green foliage and offering unobstructed views of the lake and the City of Belleville on the other side. The median home price in Madrona is $905,000. Top-rated public schools include Garfield High School (one of the top 15 high schools in the state), Washington Middle Schools, and the well-regarded Epiphany School, a private institution along the community's northern border.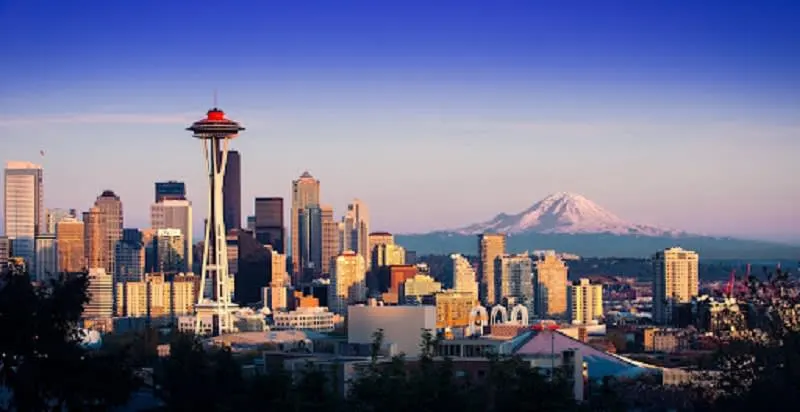 QUEEN ANNE
Just north of downtown, the expansive Queen Anne neighborhood is arguably the most well-known of Seattle's family-friendly neighborhoods. Thanks to its dramatic topography, distinctive charm, and majestic views, one could claim it the most famous of any Seattle neighborhood. From Kerry Park, near the heart of the community, one can take in the Space Needle, downtown, Puget Sound, and Mt. Rainier. Locals and visitors often come to this Instagram-worthy perch to capture Seattle's most iconic image and to celebrate the pinnacle of Pacific Northwest living.

Taking its name from the dominant housing style that defined the community's early development, Queen Anne segments into two or even four different neighborhoods, each with its own vibe. The section that plays best to families is Upper Queen Anne. However, Queen Anne as a whole is well-regarded for its outstanding park spaces – David Rodgers Park, the aforementioned Kerry Park, and the Southwest Queen Anne Greenbelt among them. You're also not far from the Seattle Center – home to the Space Needle and future home to the newly minted and highly anticipated NHL Seattle Kraken. The Pacific Science Center is also here and is a favorite among kids of all ages.

The median home price in Upper Queen Anne is $885,000 and $683,000 in Lower Queen Anne. Top public schools include Cascadia Elementary, McClure Middle School, Ballard High School, and Garfield High School. Seattle Country Day School and St. Anne School are two of the best in the city for private education. The private Seattle Pacific University is also in Queen Anne's northernmost reaches.
RAVENNA
Immediately to the north of the University of Washington is the community of Ravenna. As with several of Seattle's more sought-after neighborhoods, Ravenna was originally an independent town, incorporating in the early 1900s. Though annexed into Seattle a few years later, the community has maintained a distinct identity as a considerably quieter community than its university neighbors to the south.

Ravenna carries an urban-suburban aesthetic, though the popular parks of Cowan and Ravenna provide residents a natural oasis. Linked together by Ravenna Ravine, the two parks feature wooded areas and open spaces, walking trails, tennis courts, a softball field, picnic areas, and a playground.

What stands out with living in Ravenna is the access you have to an underappreciated part of Seattle. Families love it as a jumping-off point to many of northeast Seattle's best attractions. The neighboring areas of the University District, Roosevelt, and Greenlake offer family-friendly shopping and dining.

You can bike or walk from most points in Ravenna to Washington Husky sporting events in less than 30 minutes. The celebrated Gas Works Park is 15 minutes to the south by car, and the 350-acre Warren G. Magnuson Park is fewer than 10 minutes to the east. Not to mention the easy access to Lake Washington and Puget Sound.

The median home value in Ravenna is $778,000. Top schools include Roosevelt High School and the private Assumption-St. Bridget School.
MADISON PARK
Located on the banks of Lake Washington, Madison Park is a lush, green neighborhood with an incredibly desirable location. The area is just a few minutes from the University of Washington, making it a popular choice for students and teaching staff, and Downtown Seattle is close by as well. If you're looking for a comfortable urban retreat, Madison Park is the perfect choice.

Thanks to the neighborhood's commercial district, you won't have to leave the confines of the neighborhood every time you want to get some shopping done or enjoy a dinner out. Pick up produce at Bert's Red Apple Market or have a meal with the whole family at Cactus Madison Park or Bamboo Thai Cuisine.

With so many gorgeous parks, beaches, and green spaces, Madison Park residents can easily relax away from the hectic city. Madison Park Beach is a popular spot for swimming and sunbathing, and you can also enjoy the lush nearby park equipped with tennis courts. Bring the kids to Madison Park North Beach, where they can play on the swings. Of course, the Washington Park Arboretum's Botanic Gardens are also located within Madison Park; this makes for a great family outing! Kids and adults alike can learn plenty of new things about local plant life on a guided tour, rent kayaks or canoes to observe wildlife, or enjoy an exciting self-guided tour. Kids between ages three and five can even take classes at Fiddleheads Forest School, while older children can have a blast at summer camp.

McGilvra Elementary School is located in Madison Park, while other fantastic Seattle schools are just a quick drive away. There are also some fantastic choices for single-family homes here; larger homes, like elegantly-restored Cape Cods, typically price in the low millions, particularly those in locations surrounded by lots of natural beauty.
CAPITOL HILL
This diverse and trendy residential neighborhood is an excellent choice for families who don't want to miss any of the action. With plenty of coffee shops and restaurants, you'll never be bored strolling these streets, and your kids will love living here as well!

Pick up a coffee and pastry at Macrina Bakery or Bakery Nouveau, or enjoy a meal with the whole family at Vios Cafe and Restaurant. You can also bring the kids to Volunteer Park, where they can explore the newly-renovated playground or splash in the wading pool on a hot day; nearby Cal Anderson Park is another popular outdoor space, featuring a childrens' play area as well as numerous sports fields.

For those searching for grand, stately family homes, look no further than Capitol Hill! The neighborhood is home to the tree-lined "Millionaire's Row," a historic street where you'll find some iconic architecture. Also part of Capitol Hill is the Harvard-Belmont Landmark District, which is listed on the National Register of Historic Places and features stunning examples of Victorian, Neo-Georgian, Neoclassical, and Colonial architecture. Whether you're looking for a sprawling mansion or sleek and modern condo, Capitol Hill has it all.

Schools in the Capitol Hill neighborhood include the private Holy Names Academy, an all-girls college prep high school founded in 1880, the oldest continually-operating school in Washington state. The Northwest School is also located in Capitol Hill, a private, independent day and boarding school housed in a historic Seattle landmark building.
Are you ready to explore the best of Seattle or Sun Valley, Idaho real estate? Whatever your luxury housing needs, contact The Wyman Group to start your home buying or selling journey. From Bellevue real estate to homes for sale in Ketchum or Mid Valley, allow the Wyman Group's years of experience and expertise to be your guide to the luxury real estate market in Seattle and beyond.